My daughter loves rainbows and keeps trying to get me to wear her rainbow hat in public. I like rainbows too but I also don't like tons of eyes on me. This hat is subtle enough for me to wear out LOL. I also thought ridges would be cool on a hat. Adds texture to the colored stripes. I named it Candy Rainbow because for some reason it reminds me of skittles haha. Maybe I just have candy on the mind with valentine's day coming up. What do you think? After this hat I am taking a month long break. I have so much stuff on hold to do. :) If you can't see the pictures right click on them and select view picture.
**********Side Note**********
I Just found out my Dad has to go through chemo again. Please send positive energy or prayers his way. I am really scared for him.
*****************************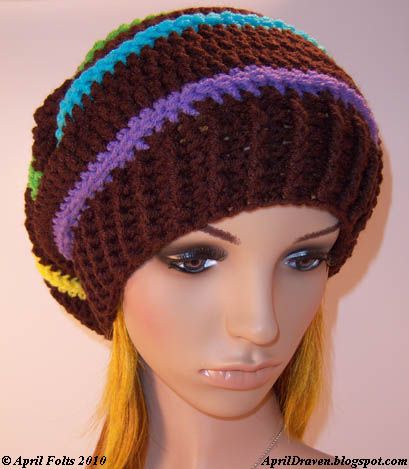 *****Update 3-06-10*****
I'm sorry to have to do this but I feel I must. Some people have been making things with my free patterns and selling them without giving me any credit at all. I am taking this pattern down. It will be available for $3.00 in my Etsy shop. (I don't think that is too much to ask) I am leaving some free patterns up for now. If I find out people are selling the finished product without crediting me I will remove the pattern. (I would prefer no one sell anything made from my patterns at all but there isn't much I can do to prevent that.)