I wanted to make something from the Lord of the Rings so bad. (I love those movies so much. It's an obsession hehe ;D ) I got the great idea to make leaf wraps for the Lembas Bread. I just thought it looked really cool. (Yah I'm a huge geek :P) Plus with Valentine's day coming up wouldn't that make an awesome gift wrap? ;) What do you think?
I used the picture on
this site
to make it, just so I could visually get the shape down since in the movie they didn't really show it all unwrapped or it flashed by so quickly I couldn't see.
Please refrain from the *it looks like male parts* jokes. Yes I know, but that is the shape it is supposed to be. It is a leaf that can wrap around to hold things, it needs to be long.
Thanks for looking :D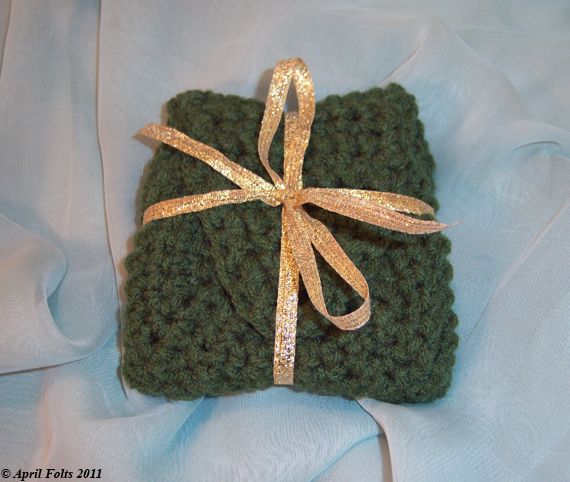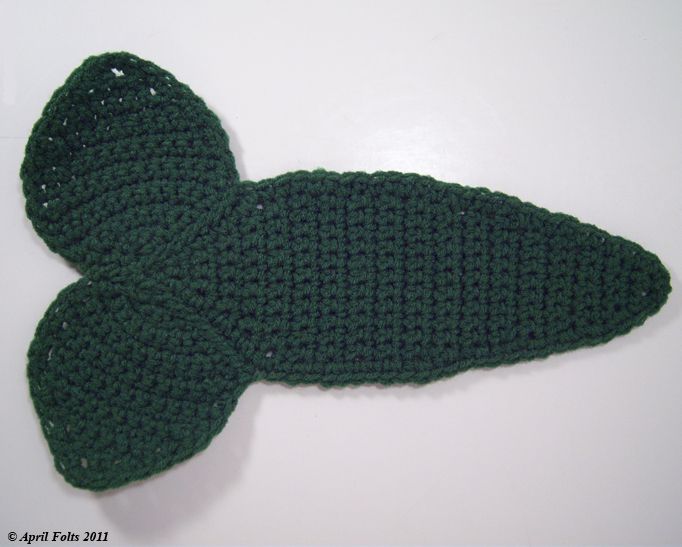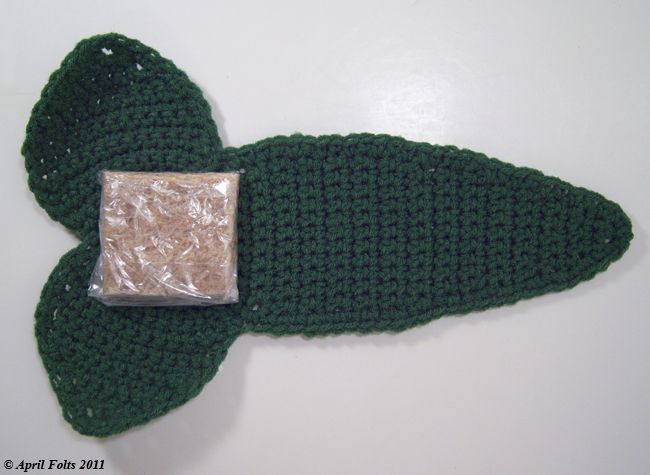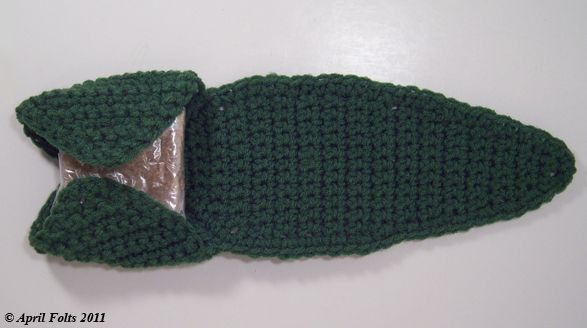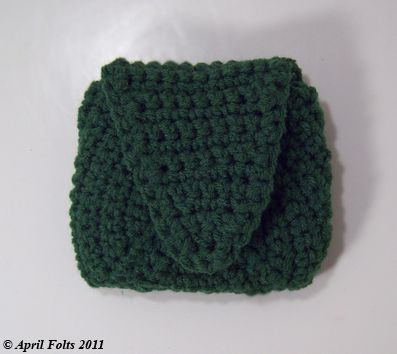 Lembas Bread Leaf Wrapper
© April Folts 2011
Hook size:
H
Gauge:
4 inches = 13 stitches-14 rows
Abbreviations
Sc= single crochet
Ss= slip stitch
Ch= chain
Sc2tog= single crochet 2 together (or 1 dec stitch)
FO= Fasten off
Middle Leaf
Form a magic circle, ch 1
Row 1:
1 sc in ring, ch 1, turn (1)
Row 2:
2 sc in next sc, ch 1, turn (2)
Row 3:
2 sc in each sc, ch 1, turn (4)
Row 4:
4 sc, ch 1, turn (4)
Row 5:
2 sc in next sc, 2 sc, 2 sc in next sc, ch 1, turn (6)
Row 6:
6 sc, ch 1, turn
Row 7:
2 sc in next sc, 4 sc, 2 sc in next sc, ch 1, turn (8)
Row 8:
8 sc, ch 1, turn
Row 9:
2 sc in next sc, 6 sc, 2 sc in next sc, ch 1, turn (10)
Row 10:
10 sc, ch 1, turn
Row 11:
2 sc in next sc, 8 sc, 2 sc in next sc, ch 1, turn (12)
Row 12-19:
12 sc, ch 1, turn (8 rows)
Row 20:
sc2tog, 8 sc, sc2tog, ch 1, turn (10)
Row 21-24:
10 sc, ch 1, turn (4 rows)
Row 25:
sc2tog, 6 sc, sc2tog, ch 1, turn (8)
Row 26-28:
8 sc, ch 1, turn (3 rows)
Row 29:
sc2tog, 4 sc, sc2tog, ch 1, turn (6)
Row 30 & 31:
6 sc, ch 1, turn (2 rows)
Row 32:
sc2tog, 2 sc, sc2tog, ch 1, turn (4)
Row 33:
4 sc, ch 1, turn (4)
Row 34:
sc2tog 2 times, ch 1, turn
Row 35:
sc2tog 1 time, sc around entire piece, 1 ss, FO

Little Leaf (make 2)
Form a magic circle, ch 1
Row 1:
4 sc in ring, ch 1, turn (4)
Row 2:
2 sc in next sc, 2 sc in next sc, ch 1, turn (6)
Row 3:
2 sc in next sc, 4 sc in next sc, ch 1, turn (8)
Row 4:
2 sc in next sc, 6 sc in next sc, ch 1, turn (10)
Row 5:
2 sc in next sc, 8 sc in next sc, ch 1, turn (12)
Row 6:
2 sc in next sc, 10 sc in next sc, ch 1, turn (14)
Row 7:
sc2tog, 10 sc, sc2tog, ch 1, turn (12)
Row 8-10:
12 sc, ch 1, turn (3 rows)
Row 11:
sc2tog, 8 sc, sc2tog, ch 1, turn (10)
Row 12:
sc2tog, 6 sc, sc2tog, ch 1, turn (8)
Row 13:
sc2tog, 4 sc, sc2tog, ch 1, turn (6)
Row 14:
sc2tog, 2 sc, sc2tog, ch 1, turn (4)
Row 15:
sc2tog 2 times, ch 1, turn (2)
Row 16:
sc2tog 1 time, ch 1, turn (1)
Sc around entire piece, 1 ss, FO
See picture for how to sew together