I love GIR from Invader Zim so I just had to make a bag ;D I wear a lot of skirts without pockets and I hate having a purse so I figured I would crochet a small bag to carry my stuff in. I still need to put some velcro in the pocket to keep it shut. I haven't decided on if I want to keep the main part closed or not, I kinda like it open.
What do you think?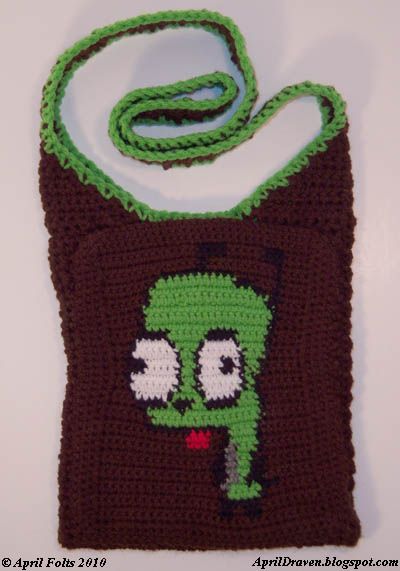 Ok here is the pattern:
GIR Bag
By: AprilDraven
For Personal Use only
Hook size: 3.25 MM for the pocket and H hook for the rest of the bag
Yarn: 100% Acrylic Worsted Weight 4 ply
Abbreviations:
Rnd: round
Sc: single crochet
Ss: slip stitch
FO: Fasten off
Make the Gir pocket first so you can make sure you are making the bag wide enough.
With 3.25MM hook
Ch 31, turn, sc in 2nd chain from hook and in every sc across, ch 1, turn, 15 sc then start the chart.
Crochet loose or else it will turn out looking more like an hour glass than a rectangle.(That is what happened to mine) when you finish the pocket,if you want, sc around the whole thing 3 rounds. FO
The body of the bag: Use H hook
Ch 31, turn, sc in 2nd loop from hook and in every stitch across.
ch 1, Sc 80 rows. (Or until your pocket fits) *NOTE: If chaining 31 isn't enough for your pocket to have about a half an inch clearance on both sides chain some more.
Fold in half and sew up the sides
Turn inside out
Straps:
At the top of the bag where the seam is, count 10 stitches on each side of the seam. The seam being in the middle and 20 stitches total. Attach yarn and sc 20 stitches. (I hope this makes sense)
Ch 1, turn, sc2tog, 16 sc, sc2tog (18)
Ch 1, turn, sc2tog, 14 sc, sc2tog (16)
Ch 1, turn, sc2tog, 12 sc, sc2tog (14)
Ch 1, turn, sc2tog, 10 sc, sc2tog (12)
Ch 1, turn, sc2tog, 8 sc, sc2tog (10)
Ch 1, turn, sc2tog, 6 sc, sc2tog (8)
Ch 1, turn, sc2tog, 4 sc, sc2tog (6)
Ch 1, turn, sc2tog, 2 sc, sc2tog (4)
For 50 rows: ch 1, 4 sc, turn
Repeat for the other side and sew the 2 straps tog.
Attach green yarn and sc around the front and back edges of the bag.
**********************************************************************
This
work
by
April Folts
is licensed under a
Creative Commons Attribution-Noncommercial-No Derivative Works 3.0 United States License
.
*******************************************************************************
Any donations are welcome and appreciated.